Patio Lighting
Outdoor Patio & Pool Deck Lighting Installation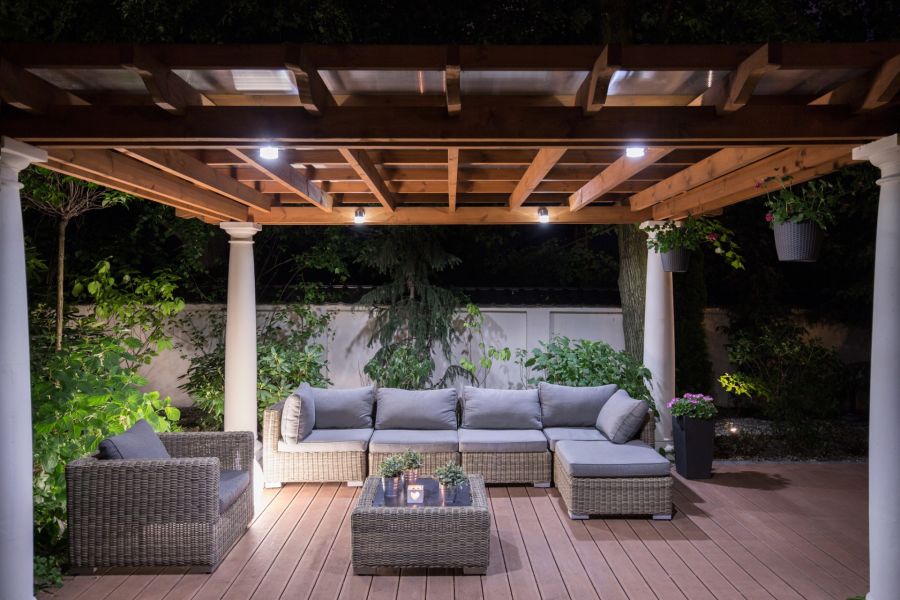 Finding a reliable local electrician to install patio lighting can be tricky. There are plenty of electricians in the area, but you will want to look for an electrician with experience in outdoor lighting installations who has a solid reputation for doing great work. Extreme Electrical Service LLC has the experience and reputation that you want and expect in an outdoor lighting installer.
---
Call for a FREE Quote
---
Benefits of Installing Outdoor Lighting
There are many reasons homeowners are calling Extreme Electrical Service LLC to install lighting in their backyards, around their swimming pools, and on their patios.
Here are the top reasons:
Better safety and security: Patio lighting can help to illuminate pathways and outdoor areas, making them safer and more secure.
Ambiance: Patio lighting can create a beautiful and inviting atmosphere for outdoor gatherings and family fun.
Utility: It's harder to burn the burgers when you can see what you're doing!
Convenience: Patio lighting can make it easier to navigate your outdoor space in the dark.
Why Choose The Electricians at Extreme Electrical Service LLC?
People often tell us that their outdoor lighting project started as a DIY project until things went awry. Hiring a licensed electrician such as Extreme Electrical Service LLC will give you peace of mind in knowing that the lighting installation will go as intended and without injuries!
Top Reasons to Choose Extreme Electrical Service LLC to install your patio lighting:
Licensed and Insured: Without proper licensing, you may not be aware of the safety regulations and codes that must be followed when installing outdoor lighting. This could lead to potential hazards, such as being shocked or causing a fire. If something goes wrong with the installation, you could be held liable for any damages or injuries that occur from an uninsured contractor's shoddy work.
We Get the Permits: Depending on the scope of your lighting project, a permit may be required to install outdoor lighting. Extreme Electrical Service LLC follows local regulations and obtains necessary permits.
Quality of Installation: Extreme Electrical Service LLC's electricians have the proper training and experience to ensure high-quality patio lighting installations. When you call (816) 494-2567 for patio lighting, the job will be completed properly, according to code and will provide years of safety, security and function.
---
Call for Fast FREE Quote
Dial Area Code first please.
---